Welcome to rent/own your place at Orchid Place & Resort

A Home away from home This residence, with an area of ​​44,788 square meters, consists of the following sections:
Adult pool:
The construction of swimming pools in homes and residences has been very popular in recent years. An adult pool has been built at Orchid Place & Resort. Here are the features of this pool: It has a simple and open design.
Suitable depth: It is neither too shallow nor too deep, so it is easier to clean. You will not need a pool heater. Less cost to build – no need to insulate the premises and implement air conditioning, heating, and cooling. Suitable for summer – Enjoy the summer sun.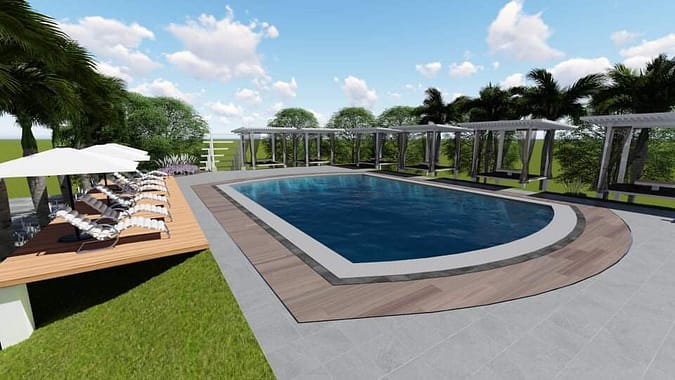 Children's pool:
Swimming is among the best sports you can teach your child. Only swimming can make the summer heat bearable. Besides, among the various summer training for children, swimming has a special place. Undoubtedly, the pool for adults and children is different.
One of the most obvious differences is the depth, which is a dangerous factor for children. excessive depth of the pool can cause suffocation and drown in the child.
At Orchid Place & Resort, there is an area called a children's pool (with sprinkle water around the edge) for children to swim in so that they can swim in this pool, which it's deep is to the knee of a 2- to 4-year-old child.
Mini-theater:
Another feature of the Orchid Place & Resort is a mini theater that can accommodate up to 30 people.
Two bungalows with four bedrooms each:
Many of us like to experience life in the bungalow and travel easily, especially on weekends, without worrying about location. The feeling is present in old houses and bungalows, less seen in modern apartments. The presence of nature in the house and the mountains and forests' view is directly related to the human spirit and makes life more current and beautiful.
If you plan to buy a bungalow, you must have faced the question, what are the features of the best bungalow? In addition to travel, many people who are looking to invest.
They change their lifestyle and move to another city are also looking to buy such houses. If you plan a vacation outdoors in a relaxed environment, you can take the time to stay at Orchid Place & Resort.
Resting in a summer house is a great option for those who are tired of the hustle and bustle of big cities and want to fully enjoy the beauties of nature. Orchid Place & Resort consists of two bungalows, each with four bedrooms.
Mango Gardens:
Mango fruit is among the most popular fruits in the tropics that has many benefits. Tropical fruits have always been one of the most valuable and popular fruits globally which mango is known as the king of these fruits. Mango ripens in May month and is available until early September. Tropical horticultural crops will grow and produce to the maximum in hot, humid climates.
Despite the favorable conditions at Orchid Place & Resort, some species of mango tree grow well and have a very high yield. By renting or buying this property, you can enjoy the beautiful mango gardens. In April, the Orchid Place & Resort gardens are filled with clustered yellow flowers of mango trees and show a beautiful view that attracts every viewer's attention.
 Fishponds:
A fishpond is a place like a pond and can retain water inside and prevent water from escaping. The fishpond should be such that, if necessary, the water can be changed and freshwater poured into it. This way uses to remove fish waste and food scraps from the pond and prevent disease. Ponds can be built and maintained in all weather conditions.
And fish can be raised in them and also, these ponds can be used in all places. However, areas with humidity and sufficient rainfall per year are the best areas for building fish ponds. Another feature of Orchid Place & Resort is the existence of fish ponds that have been built in this area. So by buying it, you can enjoy fish farming in natural way, chemical free.
Basketball Court:
One of the group and group sports is basketball. Orchid Place & Resort travelers can use the green space located in the area to have pleasant and memorable times. In addition to the green and pleasant space of Orchid Place & Resort.
There is also a sports field that you can use to do sports such as basketball and tennis, etc. Dear guests, if you rent, you can take full advantage of the facilities of this complex. Slave and enjoy your travel and entertainment to the fullest. If you plan to buy or rent Orchid Place & Resort, keep this feature in mind.
Washrooms and shower:
In Orchid Place & Resort, there are six washrooms/showers for girls and four washrooms for boys.
Pavilion:
In Orchid Place & Resort, there are pavilions with a capacity of 70 people that you can use. You can use this Pavilion as a shelter, living room, meeting place, cafe, theater, or for lectures, events, exhibitions, sports, games, rest, work, and more.
226 Lots to rent / sell 
Lots will be build in different phases and every phase will gets his own color code
Below is an overview of Orchid Place & Resort so you can make an informed decision.
To make the image understandable to you, we have divided it into five parts:
 Phase 1: The resort is located in this part.
 Phase 2: Orchard mangoes are located in this area.
 Phase 3: This is the basketball court/tennis court.
 Phase 4: The fishpond is in phase 4.
 There is also a creek between phase 3 + 4 and phase 5.
Benefits of Spending Time at Orchid Place & Resort:
So far, we have reviewed the features and facilities of the Orchid Place & Resort area. Due to the worries of urban life, stress, and tension, many people decide to go to a village or small town to have a more comfortable life without worries and stress.
Living in the city also has its benefits, but its concerns are much greater. What is your opinion? Would you like to live in a city with high stress or in a stress-free area like Orchid Place & Resort? In this part of the article, we will look at the benefits of living at Orchid Place & Resort.
 Unique sky and watching the starry nights:
Remember your childhood, when you were not yet in chaos and when you looked at the sky, you were confronted with a wonderful view and a starry sky. When you live in Orchid Place & Resort, you will have the opportunity to see the starry sky. If you miss such a sky, move to this area.
If you live out of town for a while, you will definitely be allergic to city traffic. At Orchid Place & Resort you will not have traffic problems. Another advantage of living at Orchid Place & Resort is that you can easily find a place to park your car. But most likely you will not need a car.
Today, everyone is aware of the problems of air pollution in big cities. Orchid Place & Resort is an area with a very clean climate and pristine nature. If you want your children to have a chance to live in a clean climate, you can move to Orchid Place & Resort. Give nature life to others by buying this area and renting it to other people.
When you start spending your time at Orchid Place & Resort, you will realize how silence will calm you down.
Living in Orchid Place & Resort will free you from the city's long traffic, shopping malls, and long queues. Also, if you want to travel to the Philippines, you can rent an Orchid Place & Resort to spend your vacation with your family and children in a safe and natural environment.
 Gardening and Relaxation:
As you can see in the pictures, Orchid Place & Resort is a green area. You do not need to bother to relax. You may not believe that a few minutes of gardening a day can help you achieve indescribable relaxation. So at Orchid Place & Resort, you can spend time caring for flowers and plants, watering them, and avoiding stress.
Due to the islands and geographical location of the Philippines, this country is an attractive destination for those who love beautiful nature and the sea. So if you are one of these tourists, we suggest you travel to the Philippines. Another benefit of Orchid Place & Resort is its proximity to the beach. You can access beautiful areas and the sea and enjoy being by the beach.
If you ever have ay questions, feel free to leave them below and I will be more than happy to reply at once, give me your general opinion too!
For more information about this  development project and if you are interested in buying a lot download our report with all the info about this project.
All the best,
Joce
dream-to-own.com
About Post Author